Hidden tomb discovered under church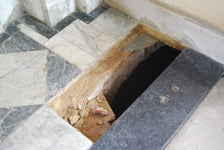 Detected with Rover C II (2005-2009)
Depth: 1.8 m (5.9 ft)
Region: Suffolk, Great Britain
Time of origin: 15th century

Discovered by Malcolm Weale

An amateur actress uncovered the entrance to a 500-year-old secret chamber, which had been hidden for centuries, when she accidentally stamped her shoe through one of the floor tiles at St. Mary's Church, in Redgrave, Suffolk. Just weeks before, a geophysicist had used state-of-the-art ground scan detectors (eXp 4000, Rover C II) to locate the long-forgotten vault. There was just one last thing to do ... finding the entrance.
Using ground penetrating instruments, Mr. Weale from Geofizz Ltd. identified a large space, about 6ft deep, extending under the altar and into the adjacent vestry. Before the geophysical surveys could be finished, the actress Kathy Mills stepped into the entrance of the vault. The tunnel was discovered with a set of steps descending into the ground visible in one direction and a cluster of about six coffins tucked inside a dark chamber in the other. The tunnel shows evidence of having been renovated sometime in the last century with more modern red brick walls visible, but the vault itself is thought to be 500 years old. It appears the vault revealed itself because timbers holding up the floor tiles in the church had rotted with age.
Malcolm Weale, founder of Geofizz Ltd., is using the OKM equipment for many years for professional and archaeological applications world-wide. Over the past years Geofizz have been working on various projects including the search for WWII Fighter Planes, the Vampire Dugout and a lot of other surveying projects.
---
Get Rewarded for Your Treasure Finds
You have also made discoveries and detected amazing artifacts and would like to share them (anonymously)? We look forward to reading and publishing your success stories!