Walkabout Deluxe detects ancient wreath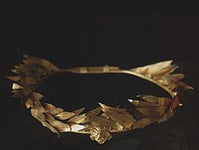 A sensational discovery has been made by hobby archeologists in an area of the former Ottoman Empire. With the metal detector Walkabout Deluxe, comparable with the current detector Rover Deluxe, a golden wreath (crown) has been located. The metal detectorists confirmed that next to the crown much more items has beed found. However, the golden wreath is the most valuable relic of the dig. Because of the integrated metal discrimination, the treasure hunters were able to find out that the located object was made of gold.
---
Get Rewarded for Your Treasure Finds
You have also made discoveries and detected amazing artifacts and would like to share them (anonymously)? We look forward to reading and publishing your success stories!