Sercolombiano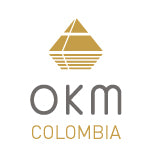 Chicó Norte
Calle 94 #16-09 Apt.601
Bogota DC
Colombia
OKM Colombiano Sercolombiano.com SAS is your shop for treasure detection and adventure. The Colombian Company, founded in 2012, imports, markets and distributes Metal Detectors in Colombia, in the North and Central zone of the Latin American Region, as Authorized Distributor of OKM Germany.
Service in English and Spanish
Showroom
Consultation
Detector instruction
Detector training
Treasure hunting
OKM Colombia are the pioneers in reaching the Colombian market with the latest 3D technology in metal detectors, OKM soil scanners of German technology for underground detection, as well as Georadars for the location of water and cavities.
Metal detectors are aimed at mining companies, private miners, for treasure hunters, for industrial use, for explorers, for prospecting and for pre-drilling of water wells, for the detection of professional gold, aqueducts and sewers for the detection of pipes, for telephone companies for the detection of cables, for adventurers and explorers, for geologies and archaeologists, for shops and distributors, for hobbies and different gifts.
OKM Colombia on Television
In 2017, at the end of March, Colombian Telelevision, the RCN channel, invited OKM Colombia to participate in a program during its fourth expedition to the "Peña de Juaica", a sacred mountain between the Tabio and Tenjo communities in Colombia the RCN presenter, Mr. Rafa Taibo, had the professional support of the local OKM distributor SERCOLOMBIANO.COM SAS.
With the Evolution 3D ground scanner in his luggage, OKM detector specialist Steven Jimenez became part of the paranormal expedition to the mysterious Peña de Juaica. The objective of this expedition was the detection of tunnels and caves. The belief of the aborigines is that the spirits of the ancestors still guard all the hidden treasures of the sacred mountain.
After reaching the area under investigation in the national park, the presenter explained how to find the so-called "Gate of the Gods".
"Great discoveries prove the capability of our products."