Golden Artifacts Detected at 20 ft (6 m) Depth with eXp 6000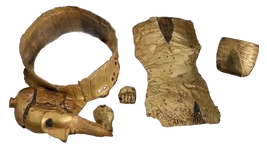 Questionable Gold Treasures
A treasure hunter found this fabulous treasure in Iran. For his treasure hunt he used the OKM 3D ground scanner eXp 6000 Pro Plus which indicated a conspicuous structure at a depth of 20 ft (6 m) in the scan. The finder unearthed this unique collection of artifacts – a coveted find of high rarity. The gold value of these artifacts alone is extremely high, although an exact indication of the weight has not yet been made. Apart from their gold value, it is above all the historical significance of the artifacts that gives an idea of why the value of these objects is so highly valued.
The unusual objects are very difficult to place in a historical background. Due to their uniqueness, it is also difficult to find out the exact use of the objects. Already the size, shape and patterning of the objects raise questions:
Are these objects of art?
For whom were the relics made?
What were the little golden hands used for?
From what period do these artifacts date?
To whom can this craftsmanship be attributed?
You can tell more about this find? Send us your clues by e-mail !
A Pearl Necklace with Spiritual Effect?
Pearl necklaces have been around for over 2,500 years. Pearls have been used for jewelry by the Egyptians since the 5th century BC. The oldest known pearl comes from a tomb over 7,000 years old. Later, pearl necklaces were also highly revered. The Islamic Republic associated pearls with virginity. The Romans referred to their sweethearts as Margaret, which means Pearl in Greek. Many cultures even today believe that wearing pearls can bring wealth, happiness and joy. The pearl is also one of the most coveted gems among kings, queens and emperors. As the jewelry of kings, pearls have been prized for centuries. The natural luster and beauty of pearls make them popular with jewelry wearers of all ages.
A Necklace Against Evil Spirits
Nazar amulets are blue, eye-shaped amulets common mainly in Turkey and Greece, but also in the Orient and parts of Central and South Asia, which according to popular belief are supposed to avert the evil eye – thus shield the wearer of the amulet from envy and hatred. The gemstones found on the necklace resemble eyes, this could have been worn by the owner of the necklace at that time as a symbol. The desired effect could be similar to that of a Nazar amulet. The difference between a Nazar amulet and the gemstones here is the color: Nazar amulets are typically bright blue, these stones are brown.
Crown, Belt or Necklace?
This component of the found collection raises questions just like the other components. The most concise question would be about the use of the gold relics found. This gold object is round in shape and has a hinge to open on the side. The large ring-shaped element could have been used as a belt or necklace. However, with each of these hypotheses, there is some evidence to doubt this: The size of the object is too large for a crown or necklace, and slightly too small for a belt around the waist. The person wearing this buckle around his torso would have to wear at least a corset. Another possible use for this object would be for an animal.
A Fabulous Treasure Find Thanks to a Legendary Detector
Discovering such a fabulous gold treasure requires the perfect equipment. That's why the discoverers of these artifacts relied on OKM's proven technology. The powerful treasure detector and ground scanner OKM eXp 6000 locates treasures and cavities at a depth of down to 82 ft (25 m).
Thanks to a wide variety of probes, the eXp 6000 can be used for a wide variety of treasure hunting tasks:
The Telescope Probe enables the examination of very large areas in a short time.
The Super Sensor finds evidence of deposits of natural gold minerals in addition to buried treasures.
The Tunnel Sensor Locates underground cavities such as tunnels or caves.
The LiveStream Sensor makes buried artifacts immediately visually visible.
Further Golden Artifacts
The above artifacts were not all that this treasure hunter discovered. Besides the armor elements and the mask, he found valuable gold vessels. The vessels are most likely bowls for ritual or decorative purposes, for example to store small valuables or as singing bowls. The vessels were made by hand and show impressive decorations.
Gold Crafting at the Highest Level
These finds are a very good example of masterpieces of gold processing and crafting by hand. Most likely, these vessels were brought into their shape by the so-called driving. In driving, sheet metal is plastically deformed by blows with a chisel, punch, mallet and driving hammer; this is done in a cold state. The driving was already known in Mesopotamia. Mesopotamia is considered the first advanced civilization in history. Thus, driving has been known as a forming process for over 4,000 years. Masters of this craft can create beautiful reliefs from a variety of materials, especially gold. Especially the pattern of the rectangular gold vessel, which looks braided, is very demanding in terms of craftsmanship.
You can tell more about this find? Send us your clues by e-mail !
---
Get Rewarded for Your Treasure Finds
You have also made discoveries and detected amazing artifacts and would like to share them (anonymously)? We look forward to reading and publishing your success stories!