Golden Detector Company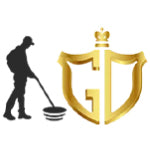 Shaleela Building 7th floor
704 9th Str, Opposite Abu Dhabi Mall Tourist Club Area
Al Zahiyah, Abu Dhabi
United Arab Emirates
Golden Detector is your metal detector distributor in the Middle East, specialized in geological tools and digital precision technology for the detection of gold, metals, minerals and ground water.
Greater depths, latest innovations, more precise results, user-friendly operation: these and further functions support treasure hunters and archaeologists in their daily work. Thanks to the expertise of Golden Detector, you will find your perfect detector!
Service in Arabic, English and Filipino
Showroom
Test field
Consultation
Detector training
Scan analysis
Search service
Distribution network
Golden Detector is an exclusive distributor for the largest German, French, British, American and Russian detector manufacturers for many years. Since 2011 Golden Detector is also a partner of OKM and presents its quality and innovations to customers in its store in Abu Dhabi.
From Science to Search Service
With their strong interest in geophysics, metal detection technologies and the frequencies of metals Golden Detector has the perfect know-how for profound consultations on metal detection. Thanks to this technical expertise, the devices can be optimally selected according to the customer's desired fields of application and comprehensive instructions on how metal detectors work can be offered.
Comprehensive Detector Training Program
The metal and gold detectors can be tried by customers on the test field. Golden Detector also offers continuous follow-up training to ensure that users are able to use their detector efficiently. Blog posts and online training through various social networks complete the personal training offers.
Wide range of products and certified authenticity
Golden Detector is dedicated to introducing only genuine brands and products to its markets. The stores product range comprises detectors of different categories, even individually designed devices based on customers' requests to meet the needs of all users.
"Customer satisfaction
is the biggest source of motivation for us."
Moreover, the expert team is ambitious to offer the best after-sales service and technical support to its highly esteemed customers all over the world.
Customer service from A to Z
In addition to consulting, sales and training, Golden Detector also offers scan analyses and search orders. Golden Detector also focuses on a simple order process and an uncomplicated purchase procedure. Thus, the store offers consultation in Arabic, English and Filipino, shipping to
United Arab Emirates
Saudi Arabia
Kuwait
Bahrain
Oman
Qatar
Turkey
Jordan
Lebanon
Egypt
and offers cash on delivery for some countries.